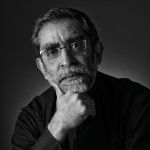 I, Asif Raza have been in the business of photography for 30 odd years. I have had an interesting journey that has been circuitous and, in many instances, serendipitous. After having established myself as the leading photographer in Pakistan for over a decade, I moved and now call Mississauga, Canada, home for the past 18 years.
All these years have made me appreciate life and everything that it offers. I do have a quirky sense of humour, though I am very patient and revel in problem solving and making life easier for those that I work with.
My greatest talent is patience, problem solving and keeping things simple, ensuring comfort for my clients and as a result, I have had the privilege of photographing senior executives, flying with the air force in their fighter jets photographing planes in flight or industrial plants or for that matter nearly falling off to my death from an open door of a helicopter as well as all the beautiful models and fashion over the years.
Someone once wrote about me and I quote "Asif Raza is an intrepid explorer who happens to be an ardent photographer by profession"
These are only some of the experiences I bring to any project I undertake. You will know this once you have worked with me.